HybridBlock's Highly-Anticipated Public Token Sale Starts May 23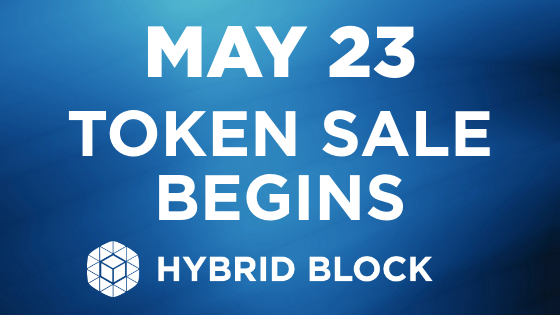 HybridBlock, a Hong Kong based cryptocurrency trading and education platform, will begin its public token sale starting on May 23, 2018. The public sale follows a successful pre-sale that included thousands of contributions, whitelist registrations, and community growth to over 25,000 supporters.
HybridBlock is creating an ecosystem of cryptocurrency buying and trading solutions to empower cryptocurrency traders around the world with a focus on Asia, both novice and expert level. Within the HybridBlock ecosystem, two tokens will be utilized. The HybridBlock Token (HYB) built on the ethereum blockchain will be the core token used to power all services within the HybridBlock ecosystem. The HybridFX (HFX) is a fiat-pegged cryptocurrency that will be pivotal to bring relevant forex and remittance solutions to users around the world. HYB tokens will be sold through the public token sale.
HybridBlock Co-Founder Rod Jao states, "We are very excited to announce the official date to our public sale.  The community has patiently waited as we thoroughly processed our pre-sale contributions and built a dedicated system to process public sale contributions, including a simple and effective KYC process.  The team has been hard at work on product development, road shows, and community building leading up to the public sale."
Co-founder Apolo Ohno spoke at the World Blockchain Forum in Dubai, that the need for compliant and properly regulated exchanges is critical for true mass adoption to occur. "The difficulty in preparing for these large scale institutions and scrutiny requires significant preparation and HybridBlock has been diligently preparing and speaking to regulators on how to best operate in the current arena of crypto assets. We as a company decided to push our token sale back due to several factors, first being that we felt the market at the time was not conducive  and we want to ensure that our platform is fully tested and operational before we open ourselves up to the public. Secondly several iterations of our product have been underway. Becoming a major player in the crypto asset exchange arena is not easy, but we believe that we have the tools necessary to adapt, and be that leader. "
Public Token Sale Details
The public sale will commence on May 23, 2018 through the sale of HybridBlock tokens (HYB) at the sale price of $0.30 USD per token. Contributions will be accepted using ETH, BTC, or NEO and adjusted for the price of ETH, BTC, or NEO at the time of arrival in the HybridBlock wallet address. No bonuses will be offered in the public token sale and the minimum contribution is 0.25 ETH. All unsold tokens will be burned upon completion of the public sale.
Token Allocations: Tokens will be allocated in both sales at the following distribution:
53%: Pre-Sale and Open Token Sale
27%: Team and Advisors
20%: Marketing, Bounty, and Strategic Partnerships
Restricted Countries: Nationals of the following countries may not participate in the public token sale: United States, Canada, New Zealand, and China.
Whitelist Registration: https://register.hybridblock.io/
About HybridBlock:
HybridBlock is the world's most innovative cryptocurrency trading and education platform. It is an alternative for those who want to benefit from the explosive growth of cryptocurrencies without the high risk and complexity that accompanies digital asset trading. HybridBlock is simply the most efficient and effective way to participate.
Through cutting-edge blockchain technology, we are aspiring to revolutionize cryptocurrency education and usage in Asia – a market of over 4.4 billion people. HybridBlock's international team is comprised of technologists, financiers, and well-known entrepreneurs all passionate about providing the best user experience within the cryptocurrency market.
To learn more about HybridBlock, please visit their website, https://hybridblock.io/, and download their whitepaper via this link: HybridBlock Whitepaper.