FintechFans ICO – Fintech Job Board And Decentralized Marketplace.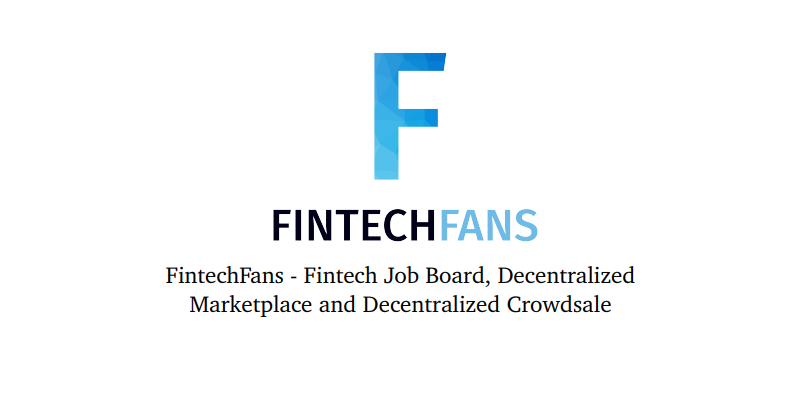 FinTechfans is the revolutionary platform set to disrupt the financial technology industry job market for job seekers and companies with job offers. FinTech Fans is simply a decentralized platform that acts as a job board by connecting freelance fintech personnel seeking employment to companies in need of their services either on a long term or short term basis.
The staffing platform is built on the blockchain technology and was founded by Marcel van Oost. By implementing the blockchain technology, FintechFans allows transparent and non manipulatable contract between the company and job seeker effectively cutting off the role of the middlemen/recruiters.
FinTech Coins – FINC
FinTech coin abbreviated as FINC is the FinTechFans' native cryptocurrency based on Ethereum that will serve as a medium of payment for the execution of actions on the platform. The coin has a variety of uses including but not limited to;
Buying an advertisement slot on the publicly viewed web pages.

Placing a job opening on the Job Board.

Giving 'premium attention' to already placed job openings on the Job Board.
ICO of FinTech Fans
FinTechFans is hosting an ICO as a means of crowdfunding to raise money for the expansion and development of the platform. A total of 12 million FINC tokens were issued by the team, the distribution structure is as follows;
65% (7.8 million FINC) – Crowdsale

5% (600,000 FINC) – Founders

10% (1.2 million FINC) – Bounties and advisory board

20% (2.4 million FINC) – Platform
The accepted currencies in the token sale include fiat currency (dollars, pounds and euro) and cryptocurrency (ethereum and bitcoin) at the rate of 280 FINC per Ethereum. The soft cap for the ICO is set at €800,000 (1 million FINC) while the hard cap is €10.95 million (12 million FINC) with a token value of €1 (i.e. 1 FINC = 1 EURO). The ICO will hold in two stages; the pre sale and the crowd sale.
The presale ICO for FINC is closed, it was only open to the big time investors in the FinTech industry. The pre sale was held between November 29, 2017 and January 31, 2018.
The unsold FINC from the presale was issued out for sale in this round. The public ICO is currently active, it started on the 7th of February 2018 and is scheduled to close on the 30th of March 2018. As at February 13th 2018, a total of 331,578 FINC had already been issued in the crowdsale which is equivalent to about $400,000.
FinTechFans provides a uѕеr-frіеndlу platform that connects FinTech specialists and FinTech companies іn thе fintech jоb mаrkеt. It is the largest job board in the FinTech industry with over 4000 job postings on the job board. The money realised from the ICO will go into the expansion of the platform and its marketing campaign.