What Is Ether Legend's ICO All About?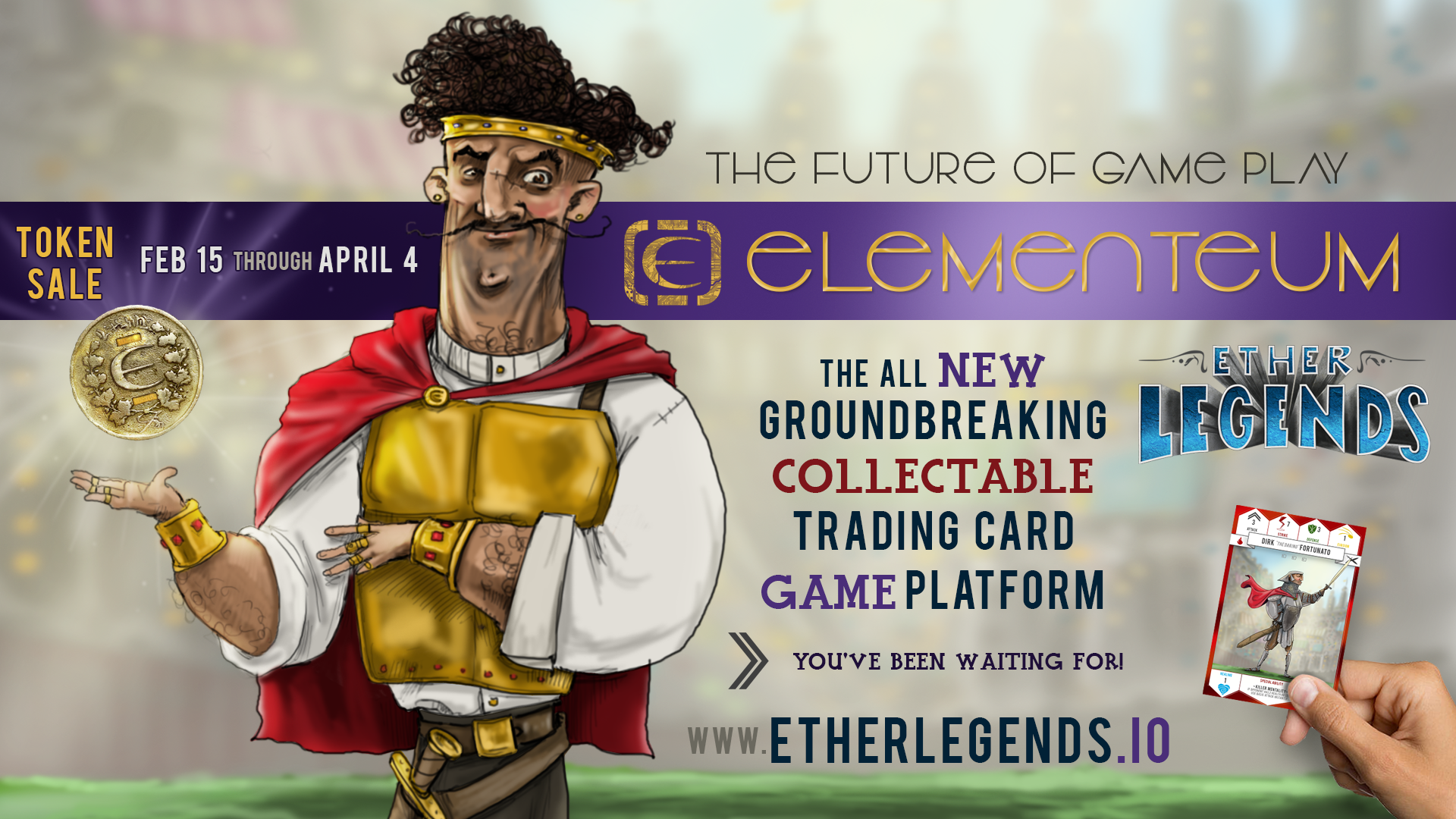 Ether Legend is an engaging and competitive trading card game which involves collecting, trading, and playing the game with friends, family and the entire world.
This competitive game is for players of all ages, has over 150 unique cards, featuring amazing artwork in each and every card created. It leverages blockchain technology to create a decentralized game for its players and community.
Ownership of digital assets under the Ether Legends platform is secured by the use of blockchain technology. Physical cards can be optionally connected to the Ethereum blockchain, to include buying, selling and trading of assets in the Ether Legends digital marketplace. Ether Legends players can unlock special features and earn rewards through this platform.
Ether Legend's initial coin offering (ICO) is its crowdfunding period during the first and second quarters of 2018 through which it allows those interested in the project to contribute and purchase its cryptocurrency in the form of the token Elementeum (ELET).
Elementeum is the utility token, or you can think of it more easily, as the currency which will be used for playing and purchasing on the Ether Legend's platform – holding and possessing it gives power to its owner. Those who hold Elementeum, hold the power. Through this ICO process, startups and cryptocurrency providers can avoid the usual costs that come with banking, stock exchanges, venture capitalism, and the regulations and intermediaries involved in this system. Ether Legend is following in this approach as its method of raising capital and contributions to meet their funding goal to help their project launch to market as soon as possible.
Ether Legends, as its website describes, is a groundbreaking game platform that allows physical gaming card to be used digitally, where they can not only be visualized but also played, traded or sold as digital assets. Elementeum and the Ether Legends system allows for a marketplace for those who would like to join a global community of people with similar interests.
The Elementeum token sale is scheduled to begin on February 15, 2018. Some important details to know are:
Token Name: Elementeum

Token Symbol: ELET

Token Decimals: 18

Blockchain Type: Ethereum ERC-20

Total Supply/Amount of Elementeum Tokens Available: 50,000,000

Maximum Amount of Buyable Tokens:35,000,000

Currencies Exchangeable: Ethereum (ETH) only

Exchange Rate: 1 ETH to 2000 ELET, gradually decreasing to 1000 ELET by ICO end

Minimum Possible Contribution: 0.03 ETH

Maximum Possible Contribution: 100 ETH

Minimum Goal: 250 ETH
The token sale of Elementeum began in the first quarter of 2018 and token sales will end in the second quarter. This is the ideal time to get a hold of ELET tokens.
Every account purchase of Elementeum in this round of the token sale will be awarded a digital release of a Limited Edition Legendary Card – a digital asset that can be played, traded, or sold in the Ether Legends marketplace.
No transfer of Ether to the token sale contract before the start date will be valid as the transaction will fail and any Ether sent will be lost. The Token sale is February 15th through April 4th, 2018.
While the largest amount of tokens have been allocated to the token sale, smaller amounts have been allocated to founders and advisors, bounty and development, vendors and partners, and as game rewards.