General Information
Specialized in providing trading services for cryptocurrencies, CMarkets Group is a trading brand that comes with several promising features. Owned and operated by Click World, Ltd, a company based in the Commonwealth of Dominica, it was founded in 2020 and offering an opportunity to get involved in the cryptocurrency market via more than 100 different instruments.
Due to the unique challenges of the crypto market, a personalized trading offer is required to offer traders the right tools to deal with the high volatility. That's exactly what CMarkets Group wants to offer and today we'll try to figure out whether it does so. At present, there are a lot of brokers offering access to cryptocurrency instruments, but few have support for so many different contracts like CMarkets Group.

Additionally, since it's specialized in providing cutting edge technologies to users around the world (except the United States), the company had developed a proprietary trading software tailored towards meeting the demands of the cryptocurrency market. The CMarkets Group systems operate via offline signature and ensure safety for each transaction as well as for funds or personal information.
Services and Cryptocurrencies Supported
The services provided by CMarkets Group are focused solely on the cryptocurrency market. That gives the company a unique advantage since all the features available for customers are specifically tailored towards the particular challenges of this market. The gateway is SIRIX, the company's platform, designed to facilitate trading both for beginners or experienced traders.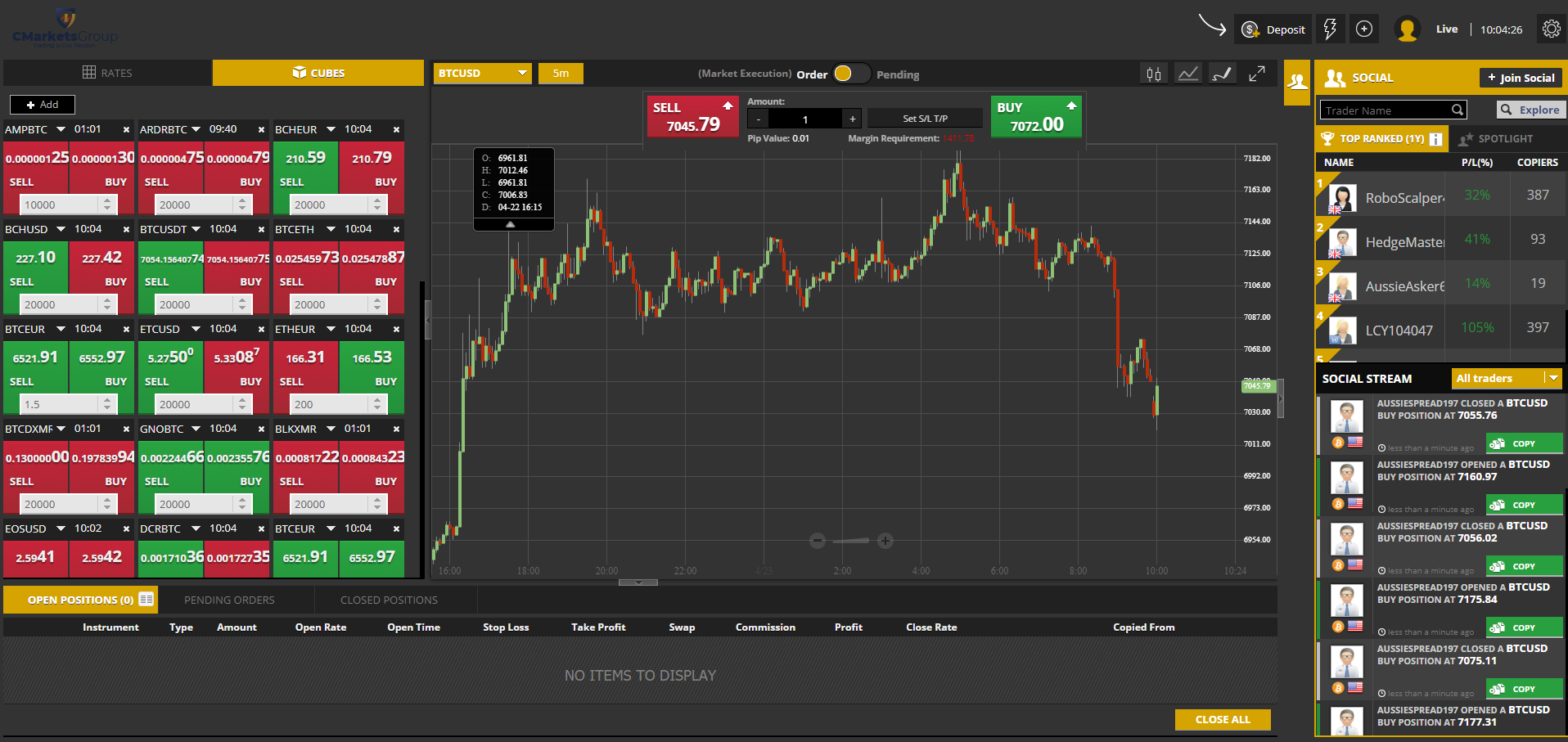 Available in four different versions (SIRIX WebTraders, SIRIX Android, SIRIX iOS, and SIRIX Android), it is a platform that manages to keep traders connected with the market developments 24/7, no matter their physical location. CMarkets Group wanted to provide a proprietary solution since it's solely focused on the crypto market.
SIRIX has several built-in features that should be appealing for a wide range of traders. With one-click execution opening trades very fast should not be an issue. The interface is user-friendly and even beginners will get accustomed to the platform easily.
Social trading makes it possible for clients to copy trades places by top-ranked traders. A clear and intuitive dashboard, as well as actionable trading insights further enhances the overall capabilities. Lastly, the usual chart analysis, news & calendar facilitate the combination of technical and fundamental analysis to find new trading opportunities.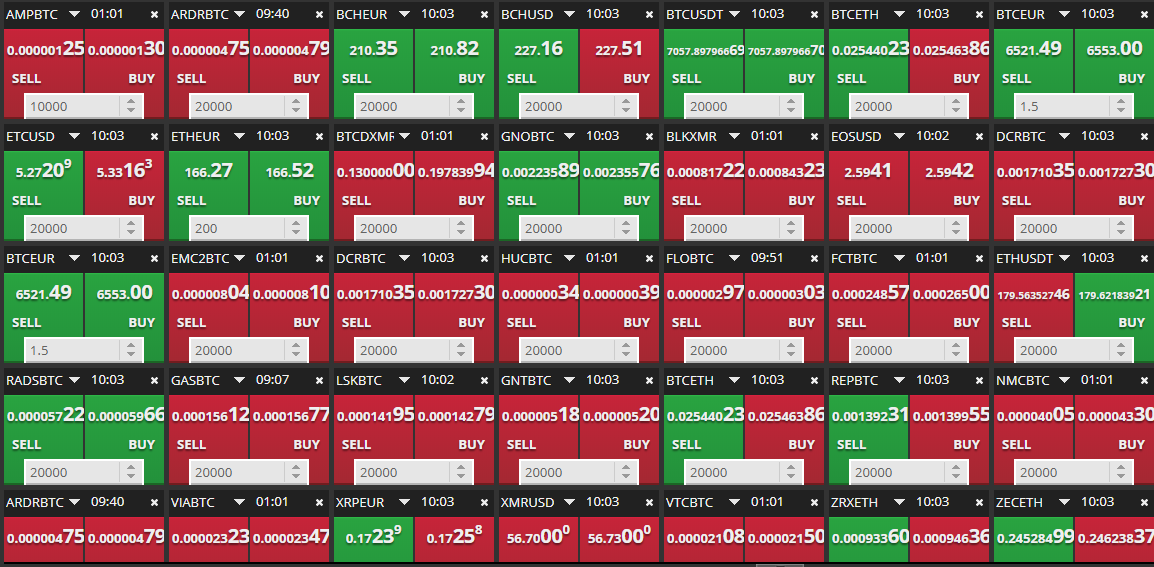 Speaking of support for cryptocurrencies, CMarkets Group has a clear edge, considering it provides access to 100+ different crypto assets. The offer is very diverse and includes popular tokens like Bitcoin, Bitcoin Cash, Ether, Litecoin, Dash, or Monero. At the same time, altcoins that are not so popular like IOTA, ZCash, Stellar, Tron, or OMG are part of the offer. Traders can trade both crypto-to-fiat (in US dollar or Euro) as well as crypto-to-crypto pairs (in USDT, Bitcoin, Ether, or Monero).
Payment Methods and Fees
CMarkets Group allows customers to make deposits via credit/debit cards. The minimum deposit is $250 and does not have any fees associated. When it comes to withdrawals, there are fees associated and depend on the amount clients want to withdraw.
There are no trading fees, however, flexible spreads and overnight swaps are the trading costs that traders should take into account. Spreads are different for low-liquidity contracts. Popular tokens like Bitcoin, Ether, and Litecoin have lower spreads while most crypto-to-crypto pairs will have much bigger spreads.
Customer Support
In terms of customer support channels, CMarkets Group keeps close communication with customers via phone or email. If you want to get in touch with a representative, call at +44 2038-070454 or send an email at support@cmarketsgroup.com. At the same time, there are FAQs on the broker's website and plenty of other information about their services.
Geographical Restrictions
CMarkets Group is an online trading brand operating for customers all around the world. Although most of the people will be able to open an account, that does not apply for citizens or residents from the United States.
Summary
Operating globally, CMarkets Group is an online trading brand with huge potential for growth in the near future. The company is providing a personalized offer for cryptocurrencies trading. Its unique trading infrastructure should be appealing for traders wanting to get involved in the fast-growing industry of digital money.
With the SIRIX platform, social trading features, assistance from experts, and live webinars, customers should be able to learn more and have an edge when trading with CMarkets Group. We did not manage to find any compromising proof that should undermine the company's ability to provide reliable trading services.
CMarkets Group
Product Name: CMarkets Group
Product Description: CMarketsGroup.com is an online trading brand providing access to 100+ contracts based on cryptocurrencies. With wide coverage of the crypto market, the company is one of the best-suited choices for traders that want to focus on one of the fastest-growing markets. Established in 2020, this is a brand that had taken all the data available and integrated the latest technologies to provide enhanced trading conditions.
Brand: CMarkets Group
Offer price: 100$
Currency: USD / EUR / GBP
Trading Platform

Languages

Spread

Support
Summary
At present, there are a lot of brokers offering access to cryptocurrency instruments, but few have support for so many different contracts like CMarkets Group
Pros
The most diverse offer, with more than 100 contracts based on cryptocurrencies.
SIRIX platform designed for the challenges of the crypto market.
A Broad offer of trading features enhancing the trading process.
Cons
Not regulated by any major regulator.
High spreads for low-liquid instruments.
Relatively high initial deposits required.